Activators for probiotic soft drinks for the whole family
Our unique recipes for safety and best taste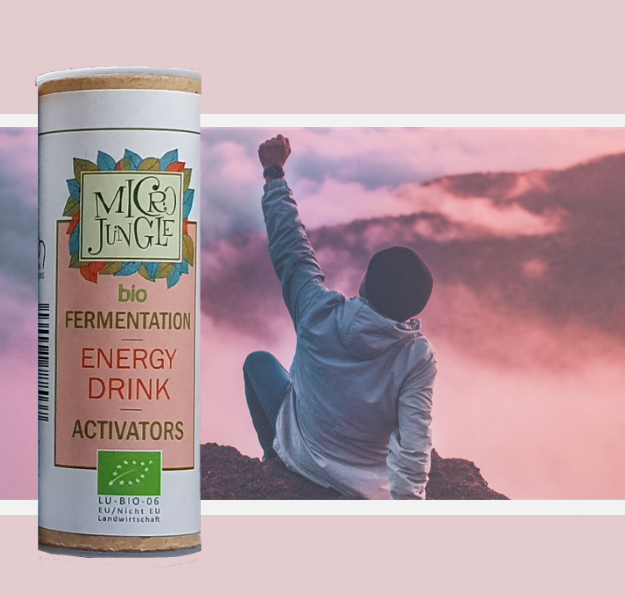 Natural perfection for a healthy microbiome
After years of practice and research, Microjungle offers unique ACTIVATORS for well done fermentation that also work against unwanted taste and smell development.
The composition based on the latest scientific studies promotes the spontaneous selection of "good" microorganisms (starters) and the exclusion of harmful substances (pathogens, mould, etc.). Our recipes contain only the best natural salt and organic spices of exquisite quality.
Fill up with "Energy" or simply "Relax"
Fill up your batteries in the morning and start the day with a tasty drink or enjoy a relaxing probiotic drink in the evening. Pamper yourself in a healthy way and without any effort !
Our starters contain energetic or relaxing organic spices of exquisite quality, without caffeine or chemical additives.
Of course our Activators are vegan, gluten-free and with valuable proteins from the coconut.
Sustainable, socially responsible and locally rooted
Our activators are packed in ecologically produced, reusable or compostable tubes and are produced fairly by hand in Luxembourg by our partner, the APEMH, a Foundation helping people with disabilities.
Infinite variety thanks to our recipes database
Vary your favourite ingredients and always try out new dishes and incredible drinks! Our four starters variations are your allies for delicious and surprising fermentation experiences.
We have deciphered and spiced up traditional recipes and created entirely new ones: Let our recipe database guide and inspire you!